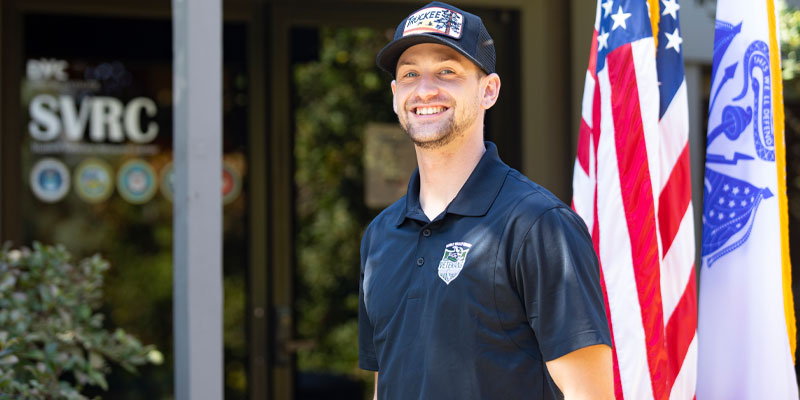 "I enrolled at DVC because it was close to home and had great reviews from those who attended there. But as it turned out, the support of the veterans services at DVC have been the backbone of my success," said Tristen Tate, a veteran majoring in allied health and natural science. 
Tate served in the U.S. Army from June 2014 to August 2017 with the 1st Battalion 75th Ranger Regiment in Savannah, Georgia. During his active duty, he was deployed to Afghanistan.  
"The Student Veterans Resource Center (SVRC) has numerous programs, such as the book lending program as well as dedicated counselors with specific Veterans Administration experience.  
"The SVRC is a place where we can feel safe or go when we need encouragement. As a veteran attending DVC, you can be sure you have someone watching your six and making sure you have the best possible experience," said Tate. 
After graduating from DVC, Tate plans to transfer to obtain his bachelor of science in nursing.  
"After nursing school, I want to get experience in either the emergency room or critical care. One of my major goals is to work in third-world countries. The academic programs I'll have completed here at DVC will set a great foundation that will enable me to build a successful career that allows me to give back, both with time and money, to those in need," said Tate. 
Continuing to serve
Giving back seems to be a theme among DVC student veterans, even though they have already given so much of themselves with their service.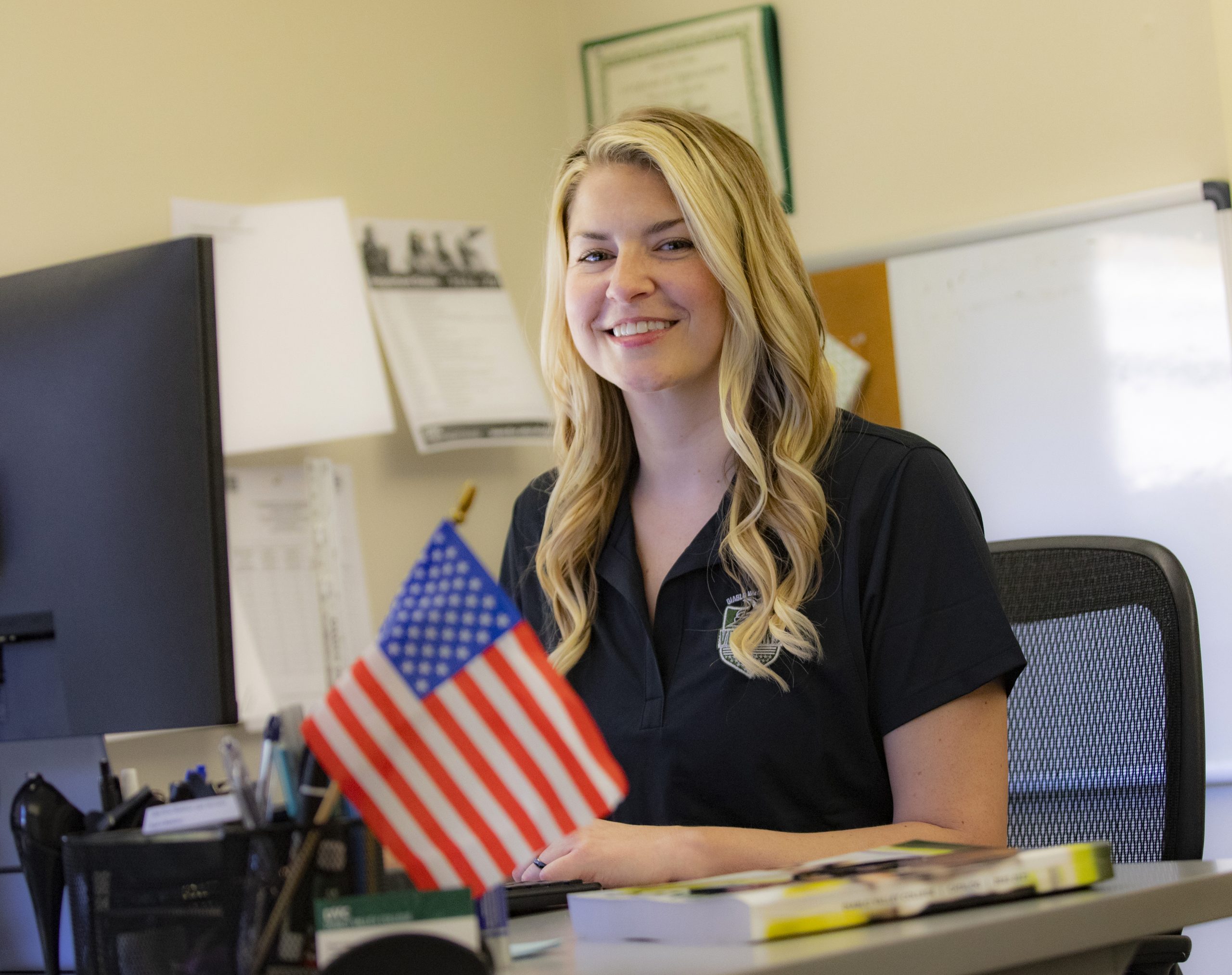 "My original goal was to earn a degree and then get a great job at a big company. But now my ultimate goal is to become a teacher because the professors here at DVC have been thoroughly inspirational. I hope to return to DVC in the future as a professor," said Katie Edgecombe, a veteran who graduated in December 2021 with four associate degrees. Her focus areas were business, business administration, accounting, and economics. 
Edgecombe joined the U.S. Army in 2001 and completed military police training in 2002. She served for two years, stationed at Schofield Barracks in Hawaii. 
"I typically worked 12- or 24-hour shifts, and when not training for deployment (which was rare), I performed patrols and searches. My unit did extensive field and range training, so I mostly trained new soldiers how to use and take care of their weapons. I was also in charge of keeping inventories of all weapons, ammunitions, and field equipment assigned to my unit," said Edgecombe. 
Since receiving an honorable discharge, Edgecombe continued to work with the veteran community, volunteering with the Veterans of Foreign Wars, American Legion, Blue Star Moms, Sentinels of Freedom, and Wreaths Across America. 
"I also volunteered at DVC, helping to put on many events honoring veterans. I was the president of the DVC Student Veterans Alliance Club for three years. During that time, we planned DVC's Veterans Week that began with the DVC Small Business Bootcamp and included a football game honoring veterans.
"I was also honored to be selected as one of a small handful of students selected to represent DVC at the Student Veterans of America National Conference in both 2019 and 2020," said Edgecombe. 
Like Tate, Edgecombe found the SVRC to be the refuge and support system needed to succeed.  
"The SVRC helped me immensely. It's a one-stop shop, having all veteran services together under one roof. They have veteran education counselors, and there is a quiet place to study and do homework. There is always someone there to help you achieve success. In addition, DVC also has Disability Support Services (DSS) that have helped so many of my fellow student veterans," said Edgecombe. 
Veterans services at DVC
The DVC Student Veterans Resource Center (SVRC) offers support and resources to student veterans and their dependents so they can build community as well as access support to ensure their academic success. Resources include: 
Veteran Academic Counseling

Dedicated financial aid and admissions liaison 

One on one assistance for new student enrollment

Tutoring services

Lounge and study area 

Access to computers with accessibility programs

Laptop loan program

Book loan program

Scantron and bluebook supplies

School supplies closet 

Free printing 

Coffee and snacks
Supporting those who have given so much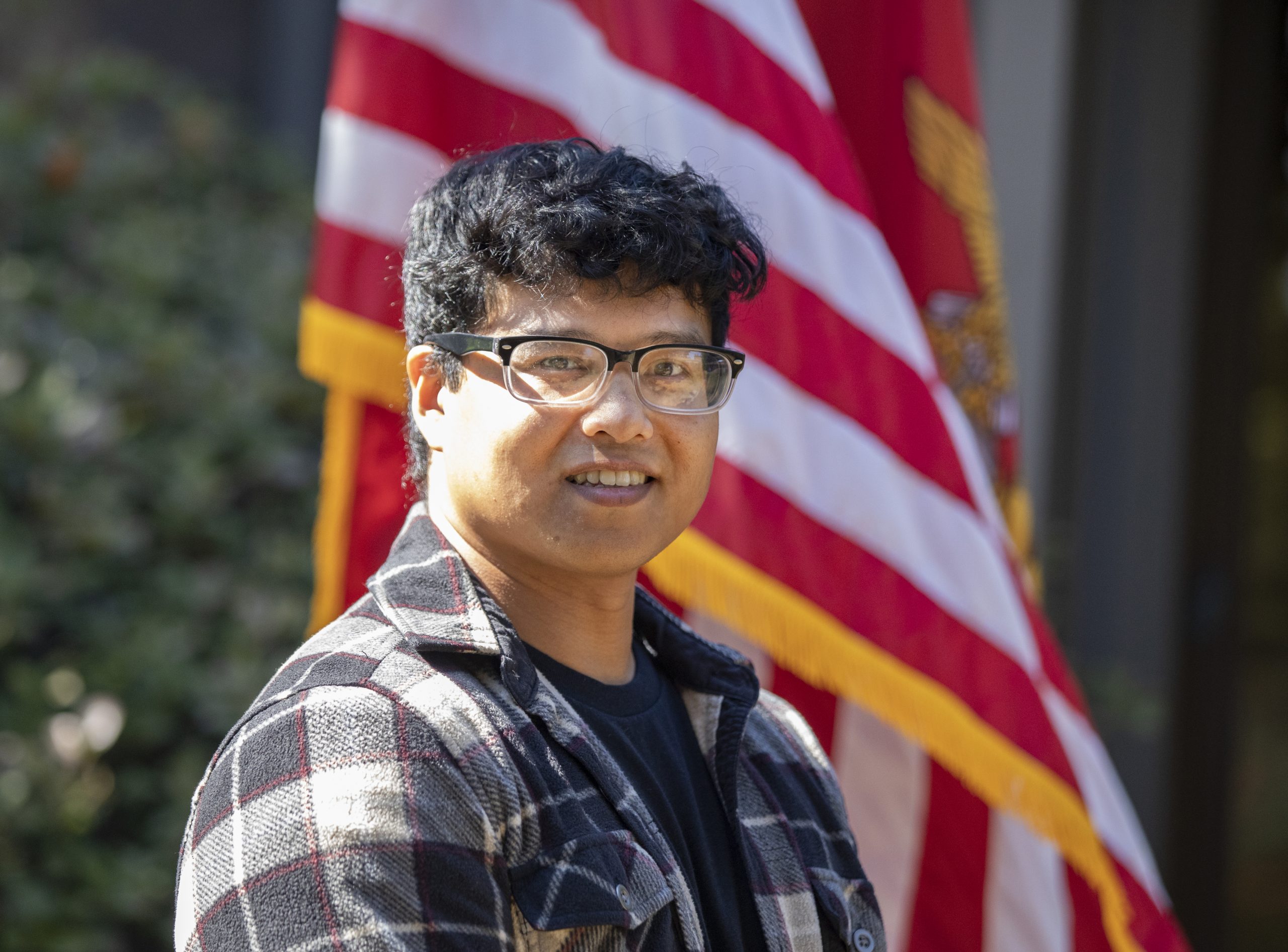 "The veterans services and support programs at DVC have been a huge part of how I have been excelling during my second chance at school. Without them, I feel would definitely be struggling," said Rein Pulido, a student veteran majoring in civil engineering. 
Pulido first attended DVC in 2011, focusing on business and computer science. After leaving DVC, he joined the United States Marine Corps, serving for five years with the Combat Assault Battalion and the Assault Amphibian School. He was in charge of maintaining and repairing optics and sights on small arms weapons and vehicles. After completing his service, Pulido returned to DVC and is now pursuing an associate in science in civil engineering.  
"I have been getting free tutoring from a veteran at DVC and that has been essential in helping me learn the difficult concepts for the classes I've been taking. I hope to transfer to get a bachelor's degree, and possibly even go further. But my real end goal is to find work that will allow me to give back to the community, like the community has given back to me during my times of struggle and hardship, " said Rein Pulido. 
Pulido feels that DVC is an ideal choice for veterans interested in continuing their education. 
"If it weren't for the support and help provided by my professors and the SVRC staff, I would not be aiming for the goals that I have set for myself and working so hard to achieve them. Because veterans can be a bit older than some of the other students, sometimes veterans can feel different from their peers due to age or ideology.
"But at DVC, I haven't felt out of place since there are so many people learning at this college that are similar to my situation. I have been able to fit in no matter where I am on campus. I have felt at home with the students, professors, and staff," said Pulido. 
To find out more about veterans services at DVC, visit www.dvc.edu/svrc.