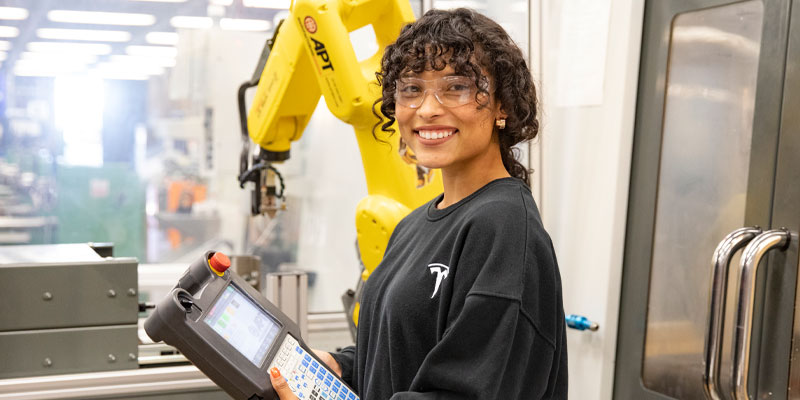 "It took me a few years to find out what I'm passionate about. I was a sociology major but it wasn't what I wanted to do in the long-run. When I learned about the industrial automation and robotics program, I became immediately interested because the program was developed in partnership with Tesla," said Luz Mendoza. 
Mendoza is currently pursuing both a certificate of achievement in industrial automation and robotics and an associate in science in engineering at DVC. She hopes to transfer to San Jose State University to obtain her bachelor's degree in engineering while continuing her employment with Tesla.  
The industrial design and automation program at DVC has much to offer for students. 
"We are super excited to be opening a new robotics training center in our engineering technology building.  DVC will be offering a variety of classes to Tesla technicians as well as our own DVC students within this new center," said Jeffrey Smith, professor for industrial design and industrial manufacturing and robotics. 
Smith notes that the program attracts both male and female students coming from a variety of socio-economic backgrounds. 
"Though women have historically played a role in manufacturing – think 'Rosie the Riveter' – men have more recently occupied these roles. However, much of the manufacturing work increasingly requires advanced technical skills. This dependency on automation is requiring an entirely new highly educated workforce that is accessible to all genders," said Smith.  
Mendoza really appreciates the hands-on experience she's getting through the industrial automation and robotics program. 
"What I've learned so far in the courses I've taken, I see every day at my job at Tesla and I'm able to apply what I'm learning right away in my role as a production associate," said Mendoza. 
For more information about the industrial automation and robotics program, visit www.dvc.edu/industrial-design.
Considering a career in STEM?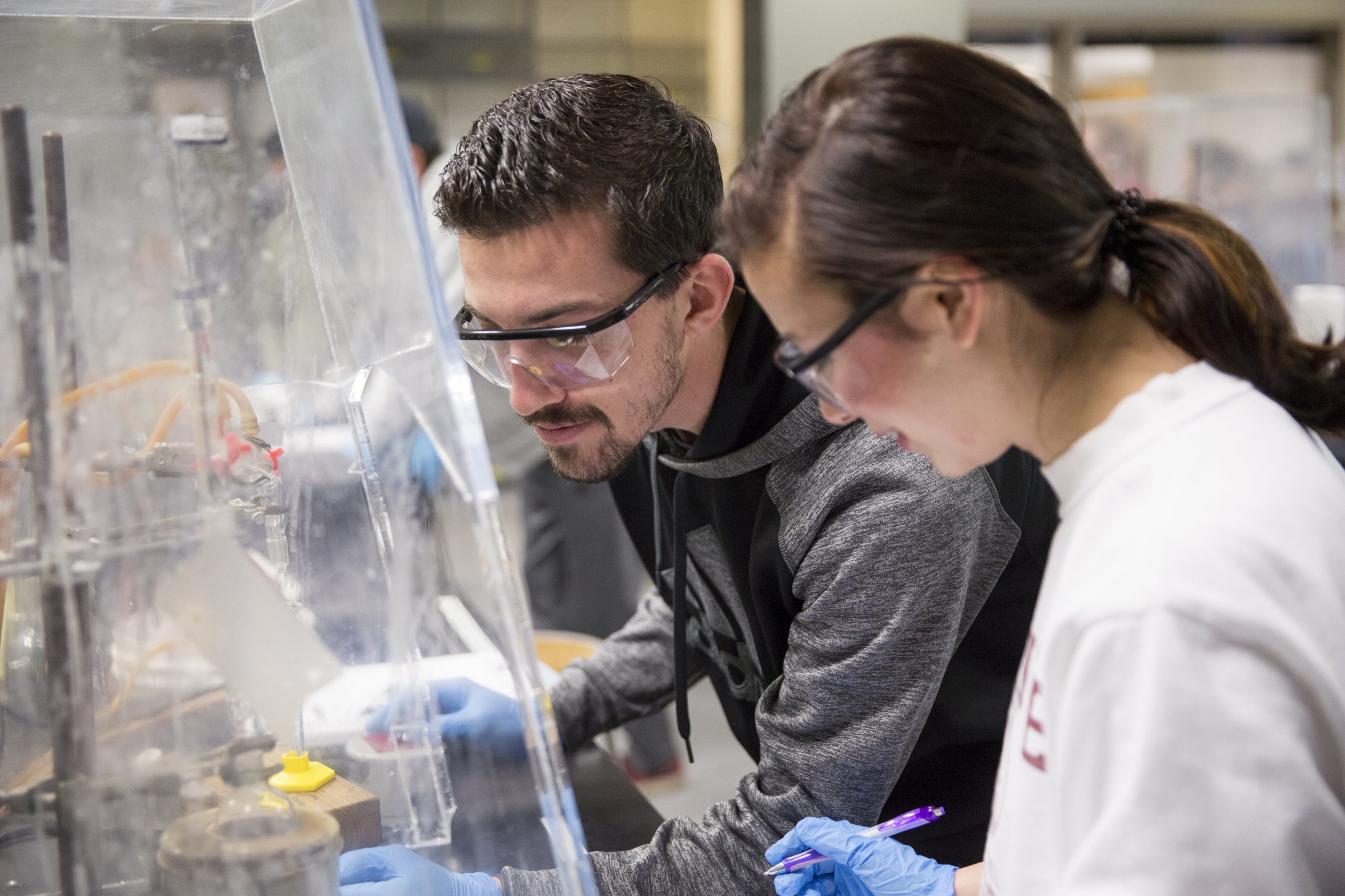 "The Science & Health Student Center and the Math & Engineering Student Center are both great places to go to get information about careers in science, technology, engineering or math (STEM).
"These centers offer excellent opportunities for collaboration and community, and enable students to connect with faculty to discuss potential career paths," said Ellen Beaulieu, chemistry professor and co-principal investigator for the PUMA STEM Scholars Project. 
Many STEM faculty also host special workshops for students. Beaulieu recently hosted an "Ask Me Anything!" panel of women in STEM to encourage students to find out more about female-identifying faculty members' career journey.  
STEM career pathways at DVC
At DVC, there are many options for pursuing a degree or certificate in a STEM field. Options include: 
Allied health (pre-nursing)

Architecture

Astronomy

Athletic training / sports medicine

Biological science

Chemistry

Computer information technology

Computer network technology

Computer science

Dental hygiene

Electrical and electronics technology

Energy systems

Engineering

Engineering technology

Environmental science

Geography

Geology

GPS/GIS

Horticulture

Industrial design

Mathematics

Nutrition

Oceanography

Physics

Public health
Support and resources for STEM students
"We encourage all students involved in a STEM pathway to join the Math Engineering Science Achievement (MESA) Program. Through MESA, students build community while accessing connections to research and internship opportunities. Students also enjoy alumni events and professional panels, and can participate in groups that represent DVC in local, state and national competitions," said Beaulieu. 
Beaulieu also urges students interested in STEM careers to participate in the PUMA STEM Scholars Project. 
"The PUMA STEM Scholars Project is intended for students beginning their STEM transfer pathway. The program offers new learning communities and pairings of classes that students take together to support rich foundational learning in math and science.
"Our program is focused on students who come to DVC earlier in the calculus pathway. Most STEM transfer paths involve lots of calculus, so we want students to start in a supportive linked community. Chemistry is also the underpinning of many transfer paths for STEM, health and medicine. This is why our learning communities pair them together," said Beaulieu. 
Available learning communities include:
CHEM 108 – Introductory Chemistry and MATH 121 with 021 – Trigonometry with Support
Option 2: Chemistry/biology transfer pathways
CHEM 120 – General Chemistry I and MATH 191 – Precalculus
Option 3: Physics/chemistry/engineering/computer science pathways
PHYS 129 – Introduction to Physics for Engineers and MATH 192 – Calculus I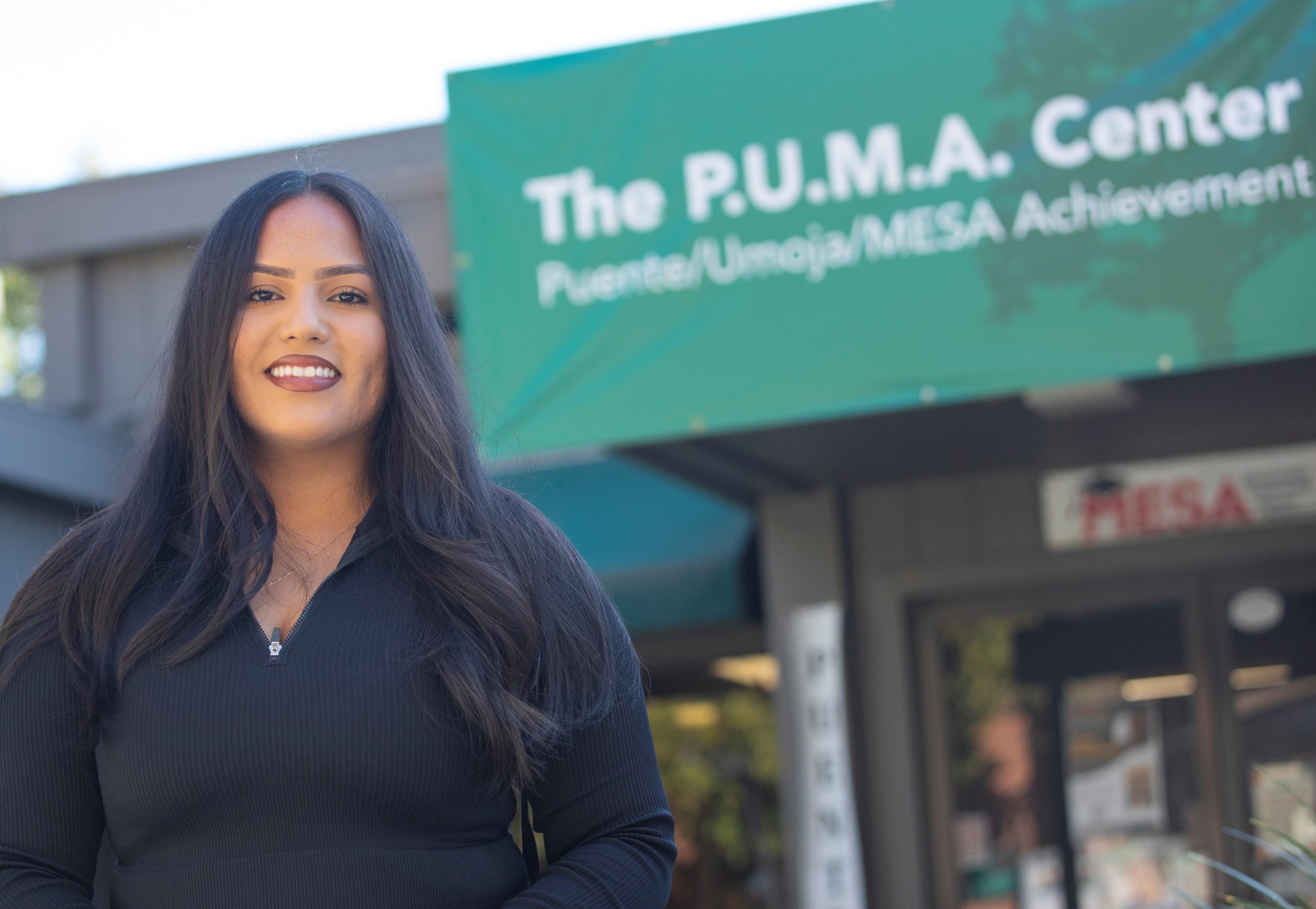 When Alejandra Meza enrolled at DVC, she wasn't sure what career area to pursue. 
"I'm a first-generation Latina who wants to make her parents proud by getting a degree and taking care of them in the future like they did for me. When I started at DVC, I enrolled in general education classes, and then joined the Puente Program through the PUMA Center," said Meza. 
Through the Puente Program, Meza completed a career planning class that helped her decide on her major. 
"I chose civil engineering because my favorite subjects are math and a bit of science. I also like problem-solving and working in teams," said Meza. 
Once she selected her major, Meza also joined the PUMA STEM Scholars Program. Meza feels strongly that all students interested in STEM fields should feel confident that they have the capacity to succeed.
"Everyone can strengthen their skills in math and science. It's all about the willingness to learn, dedication and having a growth mindset," said Meza. 
Meza really appreciates the support and resources available to students through the PUMA Center. 
"Here at DVC, they have very good programs that help students in STEM fields. These programs and resources help you build a community and get the support you need from excellent professors. You are also working with your classmates, and when you work with each other, you are all helping each other succeed," said Meza.  
For more information, visit www.dvc.edu/puma.
Did You Know?
Did you know that there are many STEM-related jobs that only require a certificate or an associate degree for entry-level positions? Here are just some of the many available options:
Civil engineering technician 

Computer-aided design drafter

Computer support specialist / help desk support

Dental hygienist

Drone pilot

Electrical technician

Graphic designer

Industrial design technician

Security operations center technician

Web developer