The theater often attracts those with a passion for performing. But pull back the curtain, and you'll see it is the technicians working behind the scenes who bring a show together.
A career in technical theater is ideal for creative problem-solvers. The DVC drama program prepares students for all aspects of a production. Students take classes in lighting design, stage makeup, technical theater, technical theater lab and more.  
"Students learn in the classroom and take the words right off the page and apply them in our technical theater lab," said Nicole Hess-Diestler, a professor in the DVC Drama Department.
"We typically produce four shows each year. Students have many chances to gain practical experience in their craft. Our goal is for them to learn and grow. They tackle bigger challenges as they advance in the program," said Hess-Diestler.
Hess-Diestler and the rest of the DVC theater faculty encountered large challenges of their own resulting from the pandemic.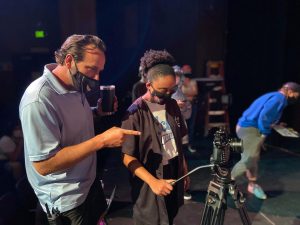 "Theater is a people-based, live art form. Person-to-person instruction works best. Typically, technical theater students work in our labs, building set pieces for our live productions. This not only builds skills, but also provides them with a sense of pride. Due to COVID-19, we had to come up with strategies that would still enable students to learn necessary skills, while also building that same sense of pride in their work," said Hess-Diestler.
The theater faculty worked closely together to develop a workable plan, with the understanding that funding would be critical to their success.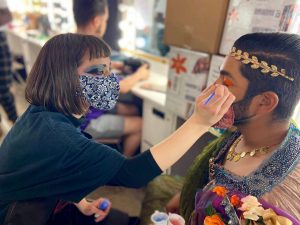 "We created a hybrid program that enabled masked students to come to campus in small, socially-distanced groups. They received safety training and other instruction during these classes, as well as additional instruction over Zoom and through faculty-created videos. The Workforce Development Office provided funds through the state's Strong Workforce Program. These were used to purchase lab equipment, as well as tools and sewing machines that students could borrow and use in their homes. In the fall, toolkits enabled students to build mini projects at home – theater flats, rehearsal blocks, etc. These pieces could then be used in our productions going forward. And this semester, the sewing machines are being used to create costumes for our current productions," said Hess-Diestler.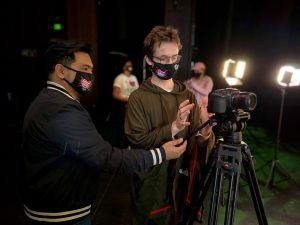 During spring 2021, DVC produced three shows. [Dreamer] Project: An Undocuplay and the musical Head Over Heels were both shot and live-streamed for home audiences. The Book of Will was performed outside, presented in front of a small, socially-distanced live audience. The performance was also shot and live-streamed for home audiences. Theater students shot and edited the footage, providing another opportunity for learning and skill development that can be leveraged as they enter the job market. 
"This fall, we will be producing two plays, followed by a musical in the spring. It is our intention and plan for the shows to be performed indoors with live audiences, assuming that County health guidelines support that," said Hess-Diestler.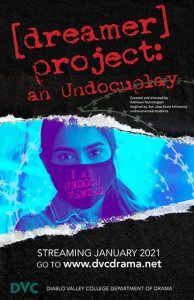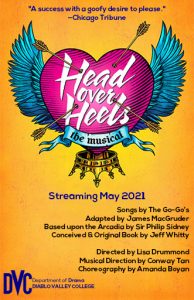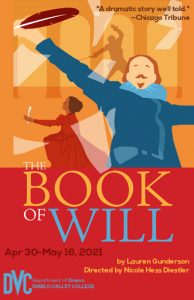 Hess-Diestler is excited about what lies ahead for DVC technical theater students.
"I'm currently developing proposals for new certificates that will feature both theater classes and classes from other relevant disciplines, such as business, music industry studies, and more. The proposed certificates will be in properties design, stage management and sound design," said Hess-Diestler. 
She is also very grateful for the funding provided by the workforce development team, noting that there would have not been a way forward without that support.
"The toolkits and sewing machines will be so useful going forward, even after the pandemic is behind us. Should we have future unexpected situations, we can return to hybrid instruction if needed. We can also serve students more flexibly, meeting the needs of students with special circumstances. It will help us with equity and access," said Hess-Diestler.
Once large live events and conferences become possible, DVC technical theater students will also be able to compete in annual festivals, as they have done in the years prior to the pandemic. These festivals enable students to gain feedback while also planning for their future.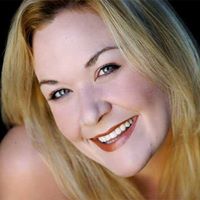 "Many of our students transfer through the relationships they create at these events. We've had students transfer to Yale, UCLA, NYU, Southern Oregon University, UC Berkeley, Savannah Institute of the Arts, Columbia and more," said Hess-Diestler. 
Former DVC students enjoy great success. Many are working on national tours, at regional theaters and theme parks. Others have built careers in television and film.
"Former students have been hired at Disney, Lesher Center for the Arts, California Shakespeare Festival (Cal Shakes), the Ashland Shakespeare Festival, and El Campanil Theatre. Many are freelance lighting designers, sound designers, scenic designers. Some have worked on Broadway and off-Broadway productions," said Hess-Diestler.
For more information about the DVC drama program, visit www.dvc.edu/drama. 
Degree and certificate options
Associate in arts in theater arts for transfer 

Associate in arts in technical theater 

Certificate of achievement in technical theater

New certificate programs in properties design, stage management and sound design are anticipated for fall 2022
Career options in technical theater
Set designer

Makeup artist

Lighting designer

Stage manager

Scenic artist

Set builder

Stage technician

Sound technician

Prop maker

Costume designer
STUDENT SUCCESS
Sarah Spero
Technical theater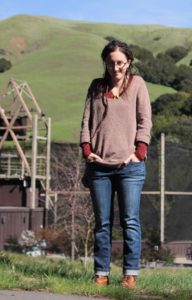 Sarah Spero was an active participant in DVC's technical theater program in 2007 – 2009. The hands-on learning opportunities played an important role in her future success.
"While working on DVC shows, I rotated through several different technical theater positions. I was a makeup artist, master electrician, props master, scenic painter, assistant stage manager, and stage manager. I was also on the costume crew and backstage crew," said Spero.
She also participated in Summer Repertory Theater (SRT) in Santa Rosa in 2008. She followed that with a props internship at the California Shakespeare Theater (Cal Shakes) in 2009. 
"After leaving DVC, I worked for seven seasons as a member of the props department at Cal Shakes, eventually running the department for two seasons. I also was involved in props for Town Hall Theater, Berkeley Rep, Marin Theater, ACT Conservatory, and many others," said Spero.
Spero credits her time at DVC for helping her to develop the skills and networking opportunities that made her theater career possible. 
"These hands-on experiences were invaluable to me. I went on to work in the Bay Area theater scene for nearly ten years. I would not have had the experience or opportunity to do so if not for DVC. I was also able to build my career without student loans. This is something I am still grateful for to this day," said Spero.